September 29, 2008
The Other Flash Crash
The Other Flash Crash

No, not the

May 6th event

, the one on September 29, 2008, when the Dow Jones Industrials fell 500 points in about 4 minutes, only to recover 5 minutes later.

This time, the fall was likely caused from traders betting that the House vote on TARP would fail, which it did at 14:07.

There are a few similarities to the May 6th event. One is quote feed saturation which overloaded systems. On September 29, Nasdaq's quote became delayed, just as NYSE's was on May 6th. Except in this case, Nasdaq's quote was delayed by minutes, and eventually quotes stopped coming altogether from Nasdaq. But that didn't seem to affect trading at Nasdaq. Though, based on trade reports it did confuse other exchanges and internalizers. There were also a number of stocks that hit stub quotes which began after the market found a bottom and was rallying back up.

We are pretty sure Waddell & Reed

didn't cause this crash either

.


---
For reference, here is a one second interval chart of SPY on May 6th, 2010 showing the trades from all reporting exchanges which are color coded according to the legend at the bottom left of the chart. Note the delay (offset) in the green dots, which are from dark pools or internalizers. The gold or yellow dots are from NSX, previously known as Cincinnati.
---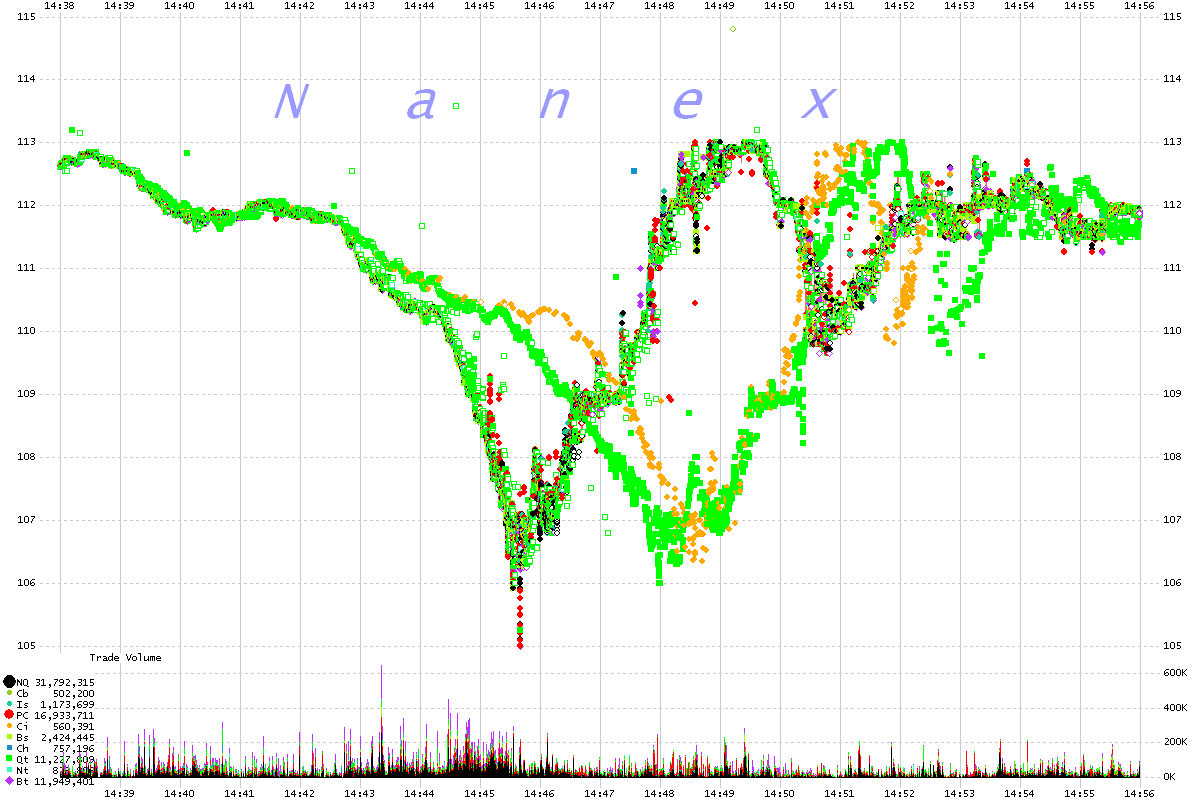 ---
The following are all one second interval charts from September 29, 2008.

SPY showing the NBBO (red shading shows where it was crossed). The black is Nasdaq's severely delayed and crossed quote.
---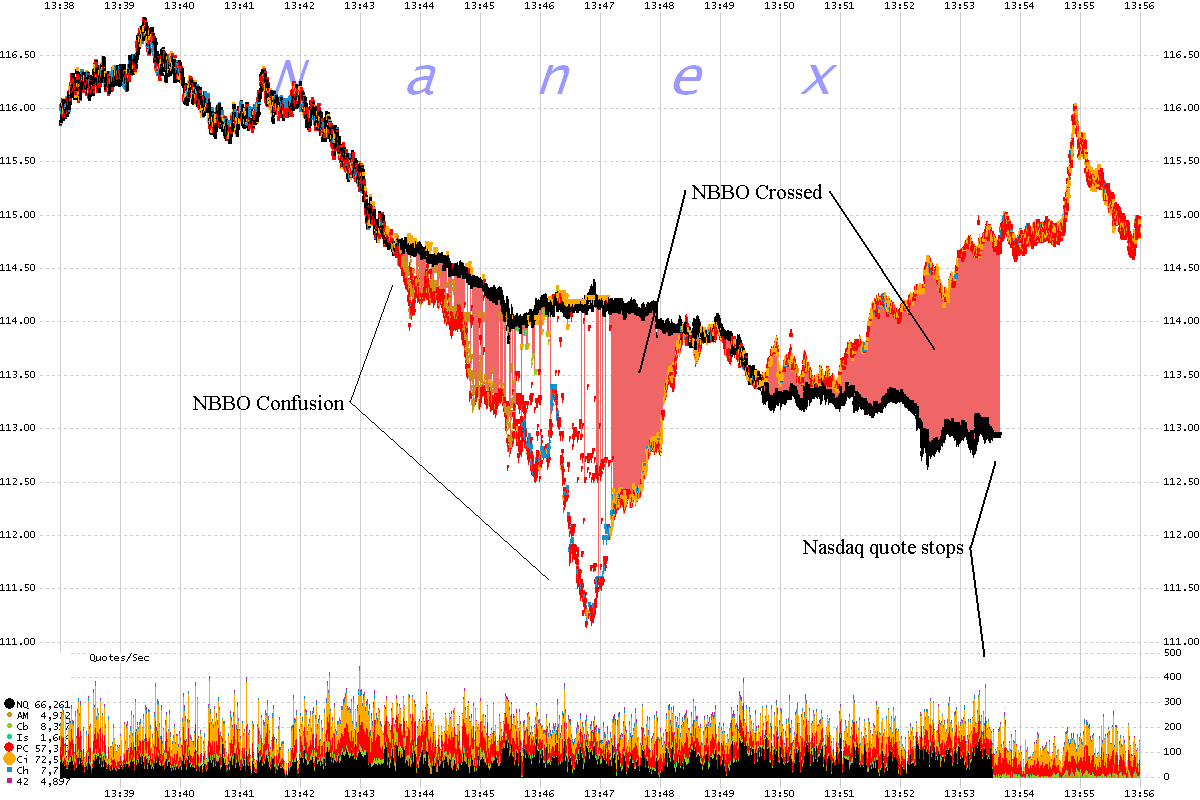 ---
SPY with Nasdaq Trades (black circles) and Quotes (black shading).
---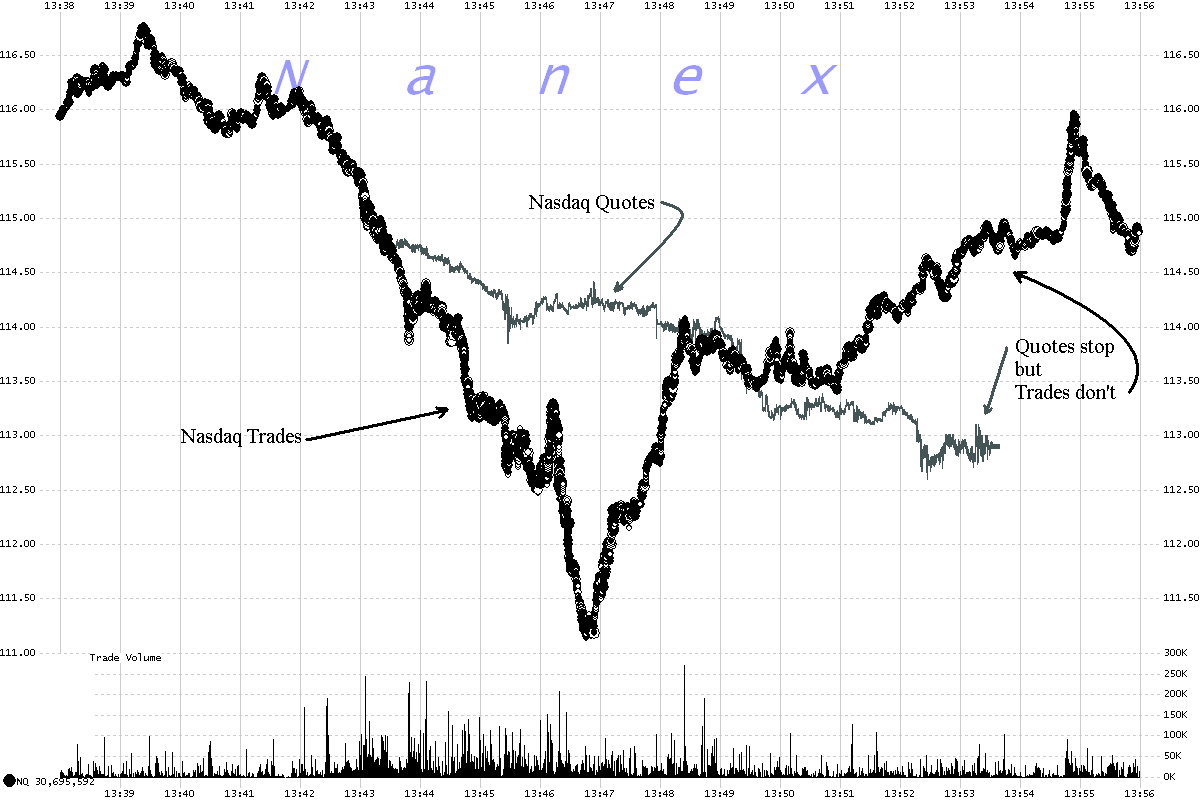 ---

SPY showing trades from all reporting exchanges. The green dots are mostly from dark pools (internalizers). ARCA trades track both the delayed Nasdaq quote and the real one.
---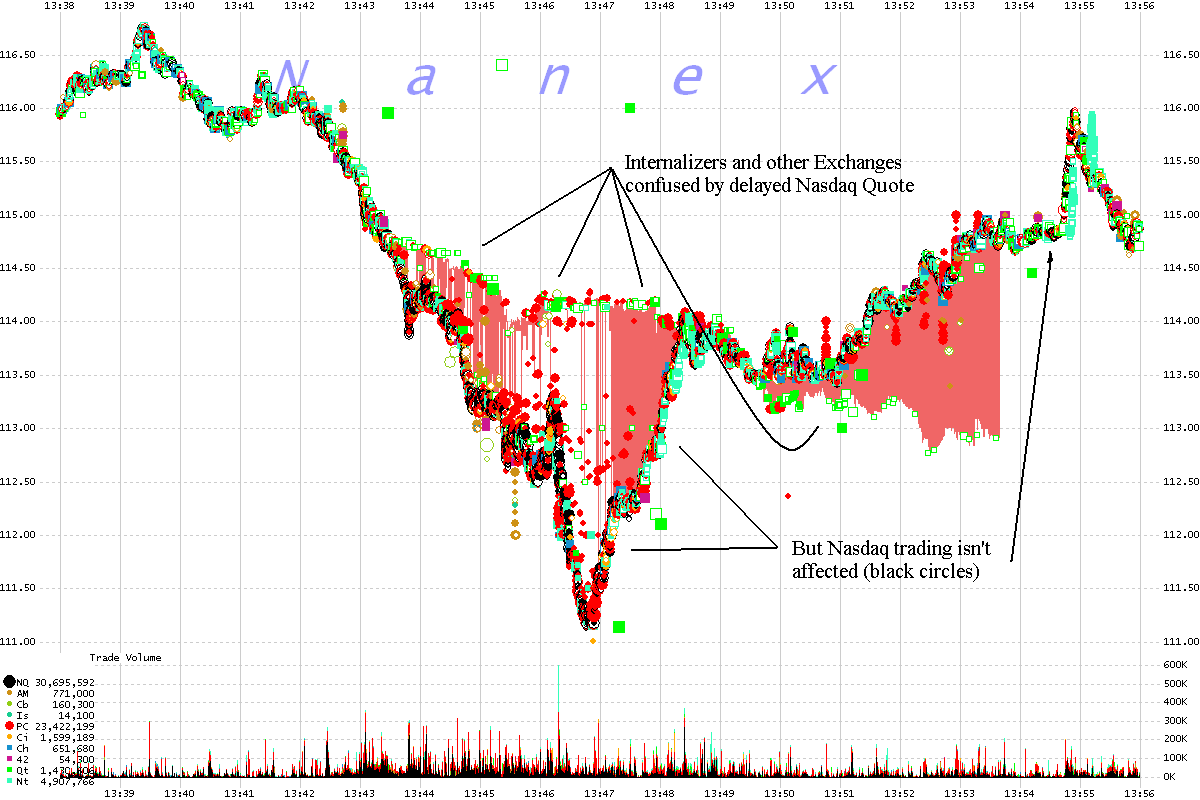 ---
The following are all one second interval charts on September 29, 2008 showing quotes from all reporting exchanges. Confusion reigns.
SPY ~ SPDR S&P500
---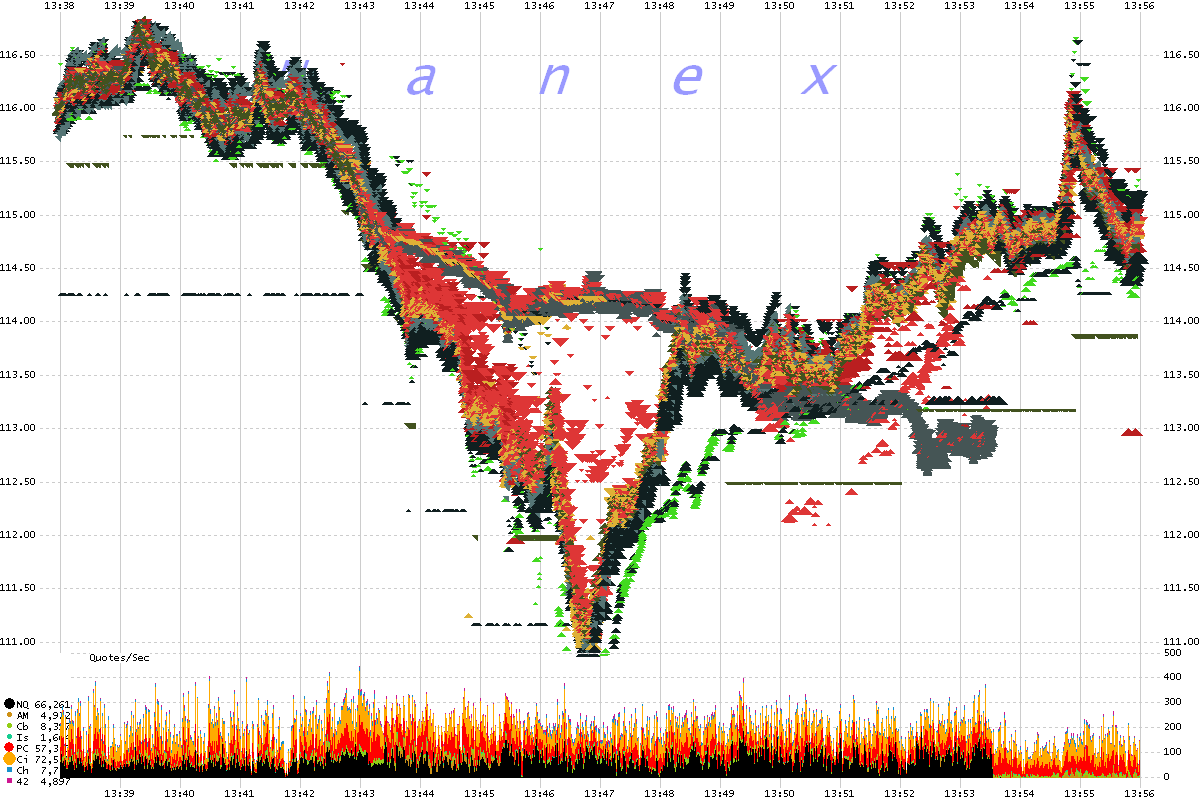 ---
SDS ~ ProShares UltraShort S&P500
---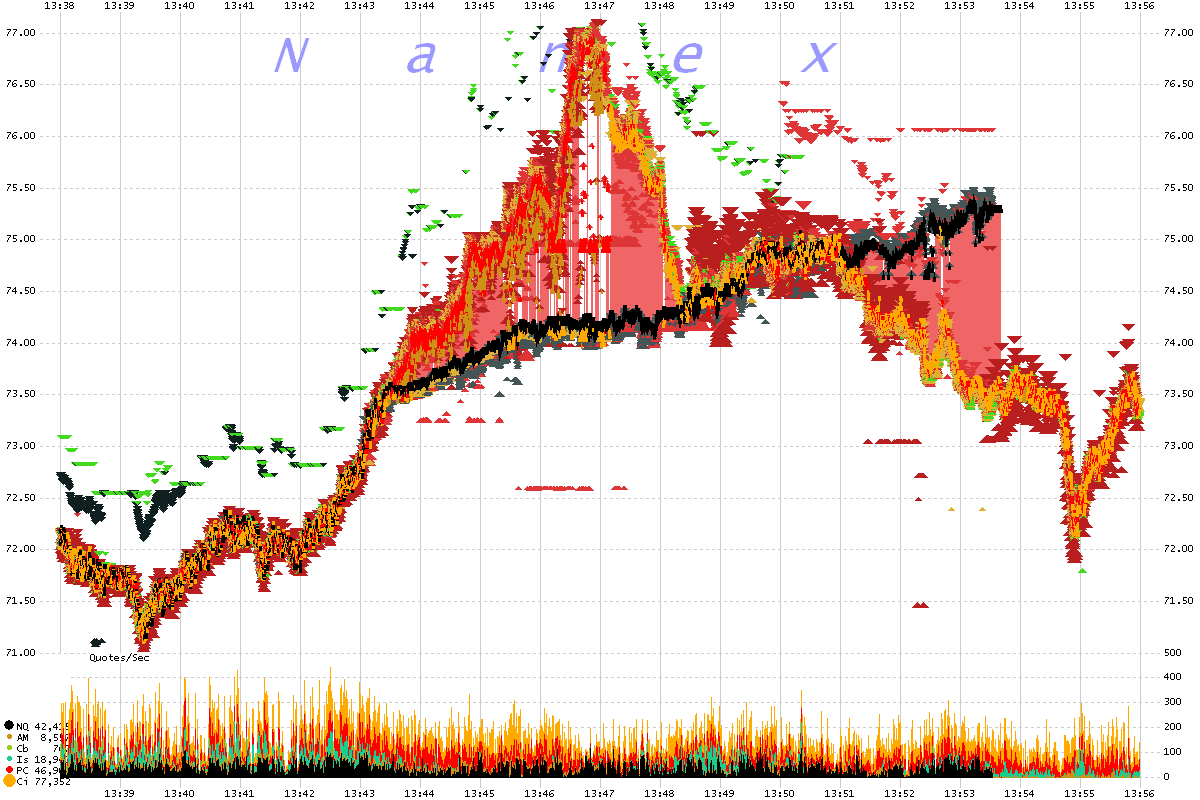 ---
DIA ~ SPDR Dow Jones Industrial Average ETF
---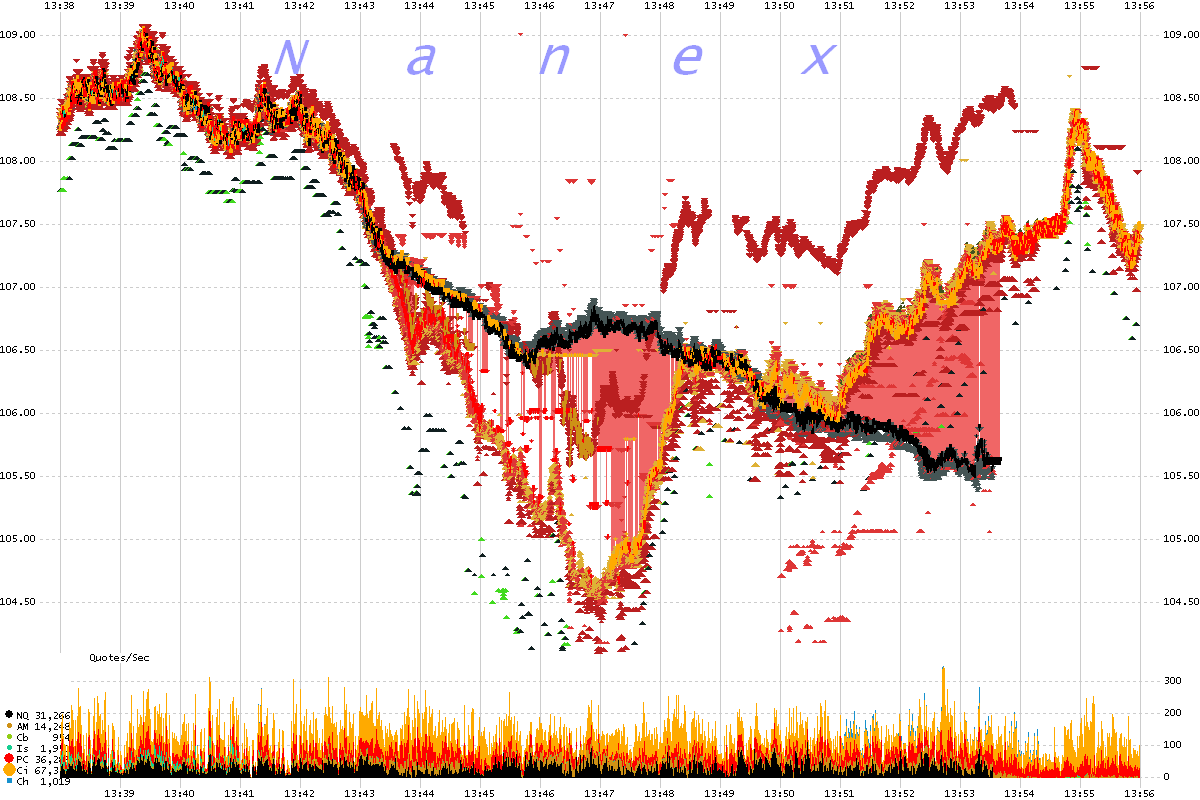 ---
DXD ~ Proshares Ultra Short Dow Jones Industrial Average ETF
---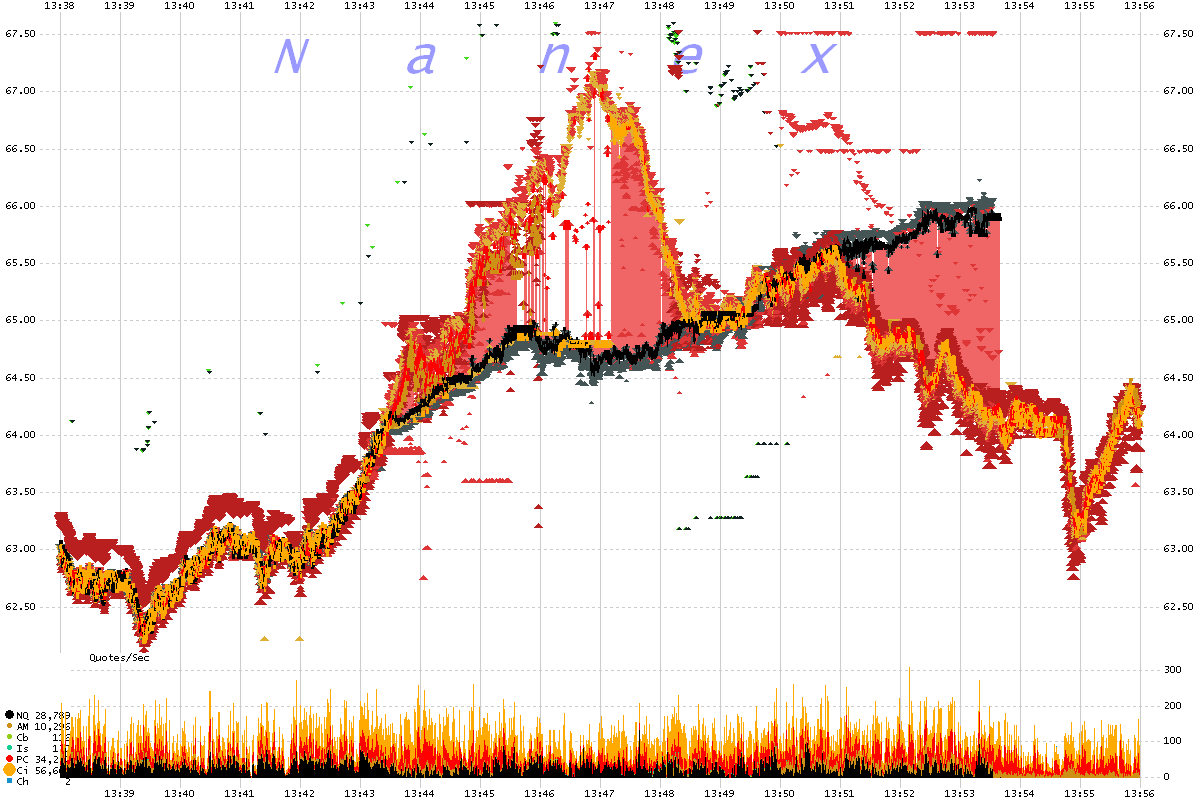 ---
IWM ~ iShares Russell 2000
---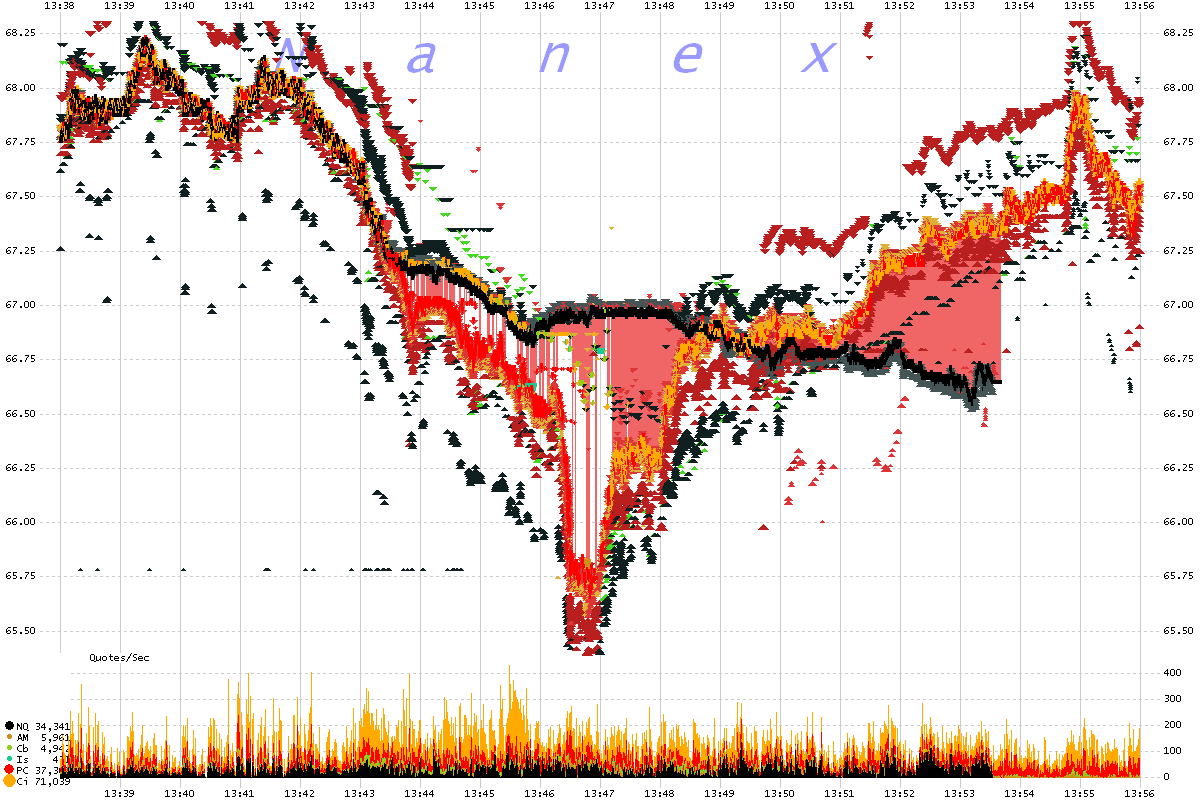 ---
QQQQ ~ Powershares
---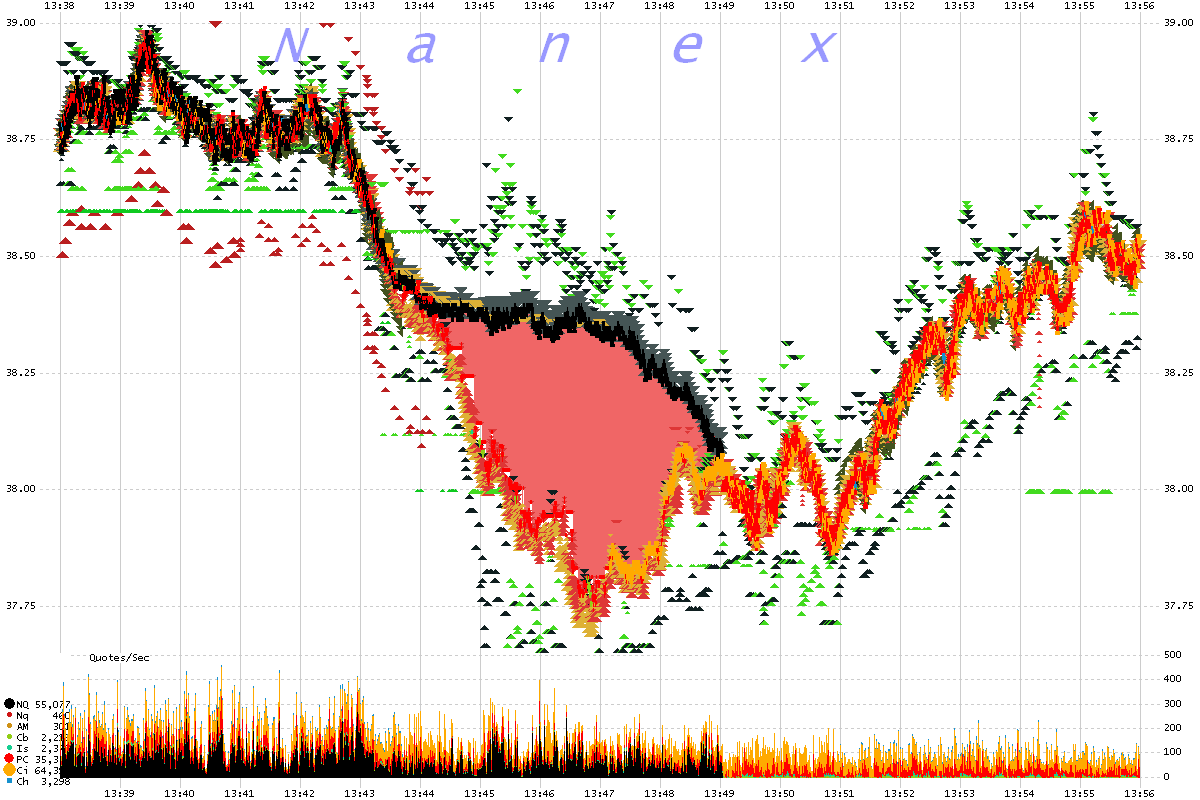 ---
AAPL ~ Apple Computer
---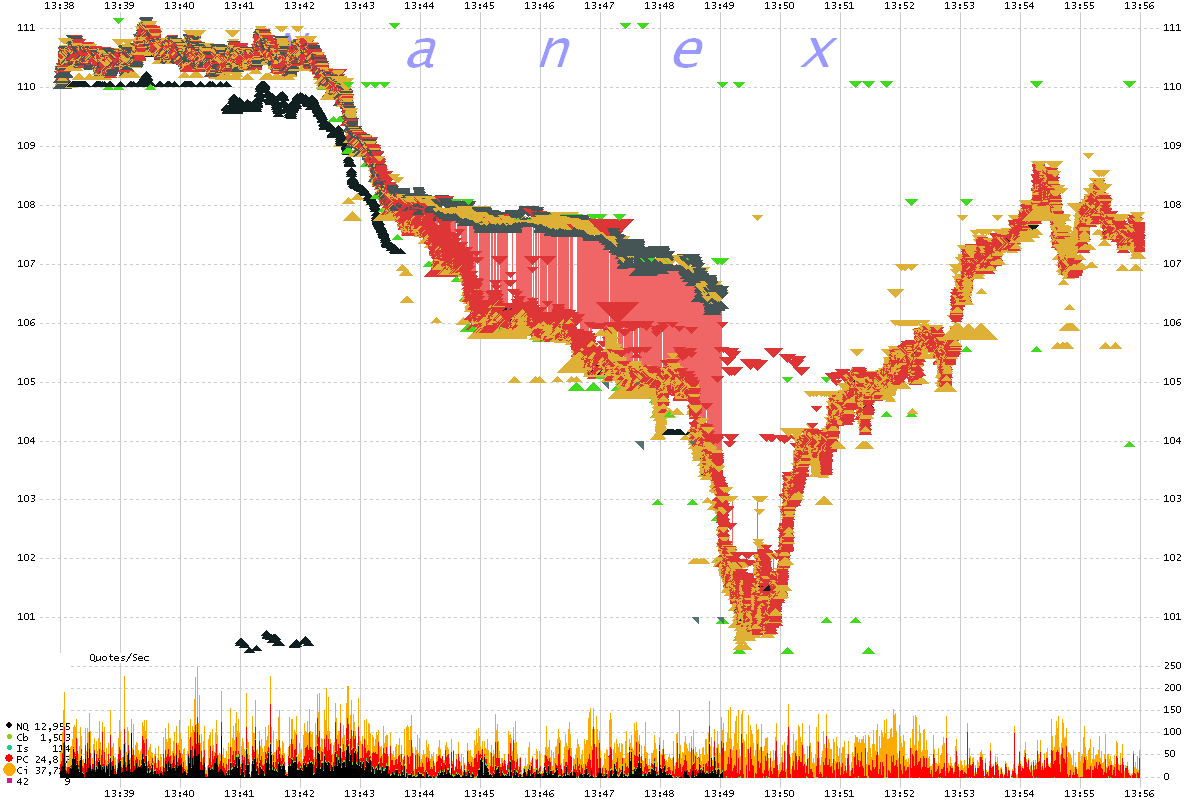 ---
C ~ Citigroup
---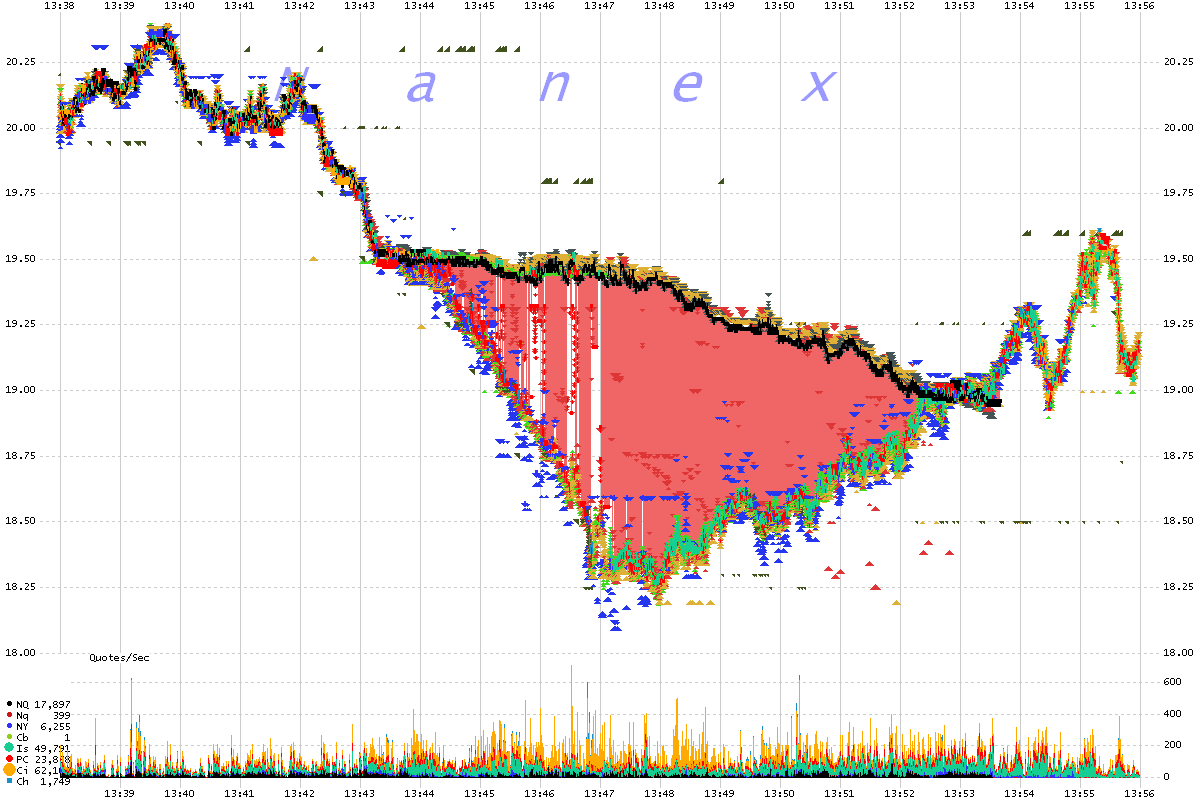 ---
DIS ~ Disney
---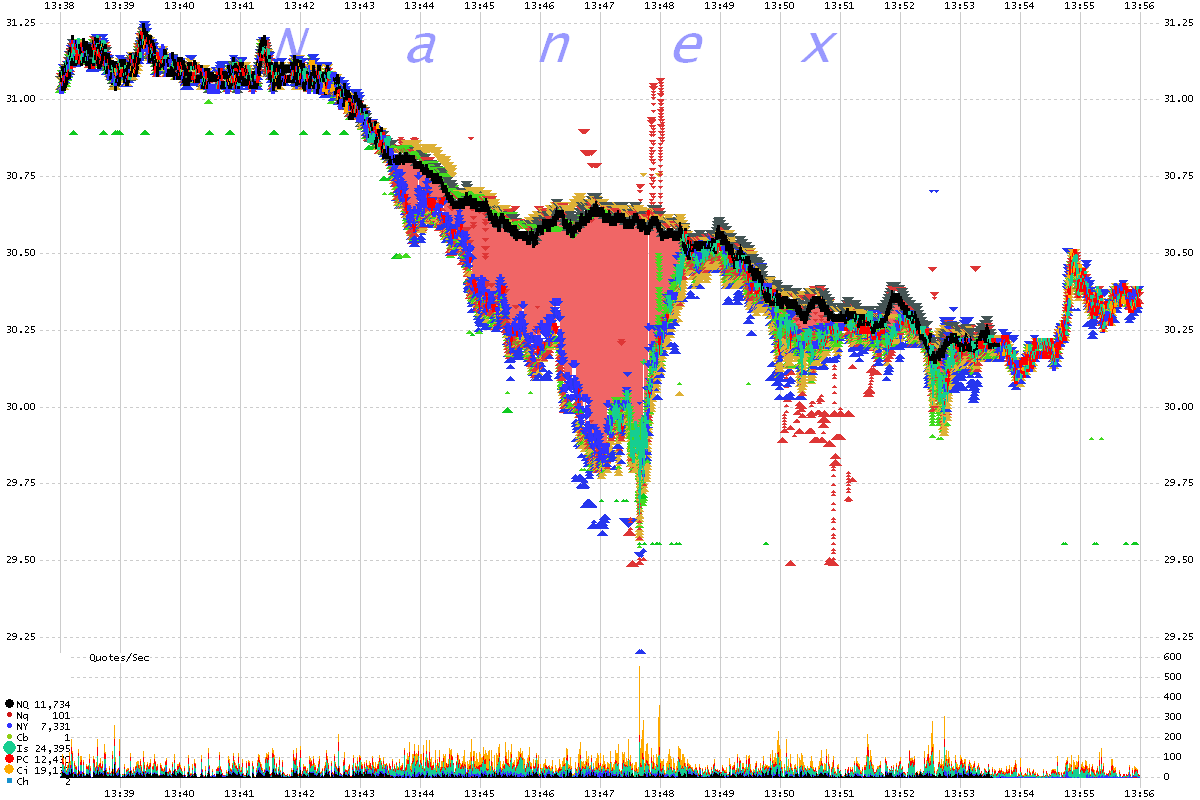 ---
JNJ ~ Johnson & Johnson
---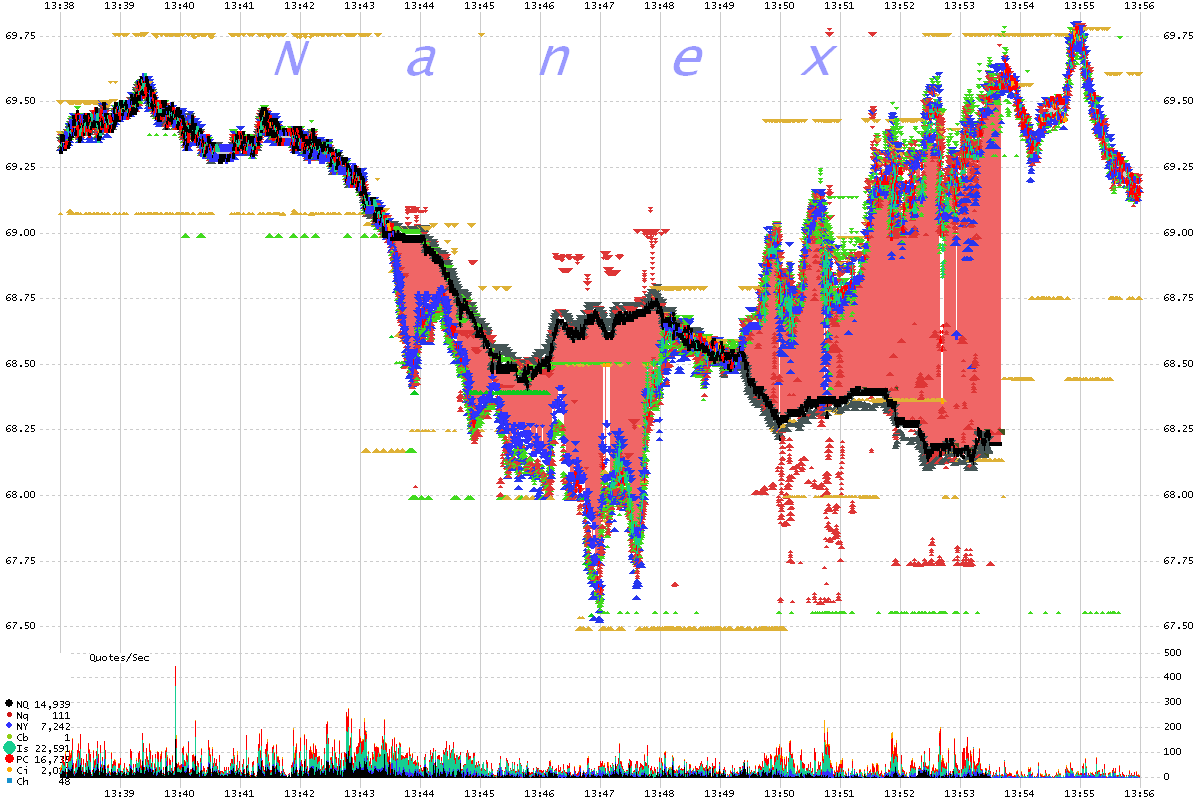 ---
MA ~ Mastercard
---
---
MER ~ Merrill Lynch
---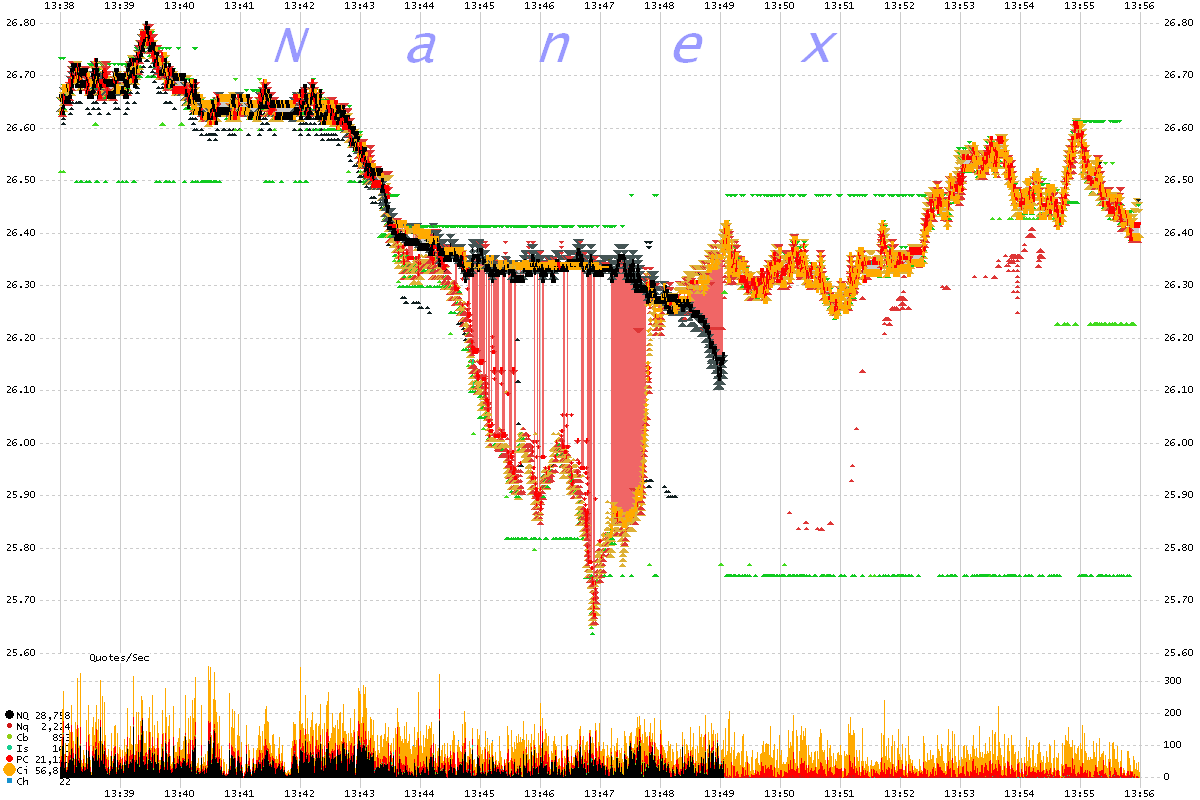 ---
PEP ~ Pepsi
---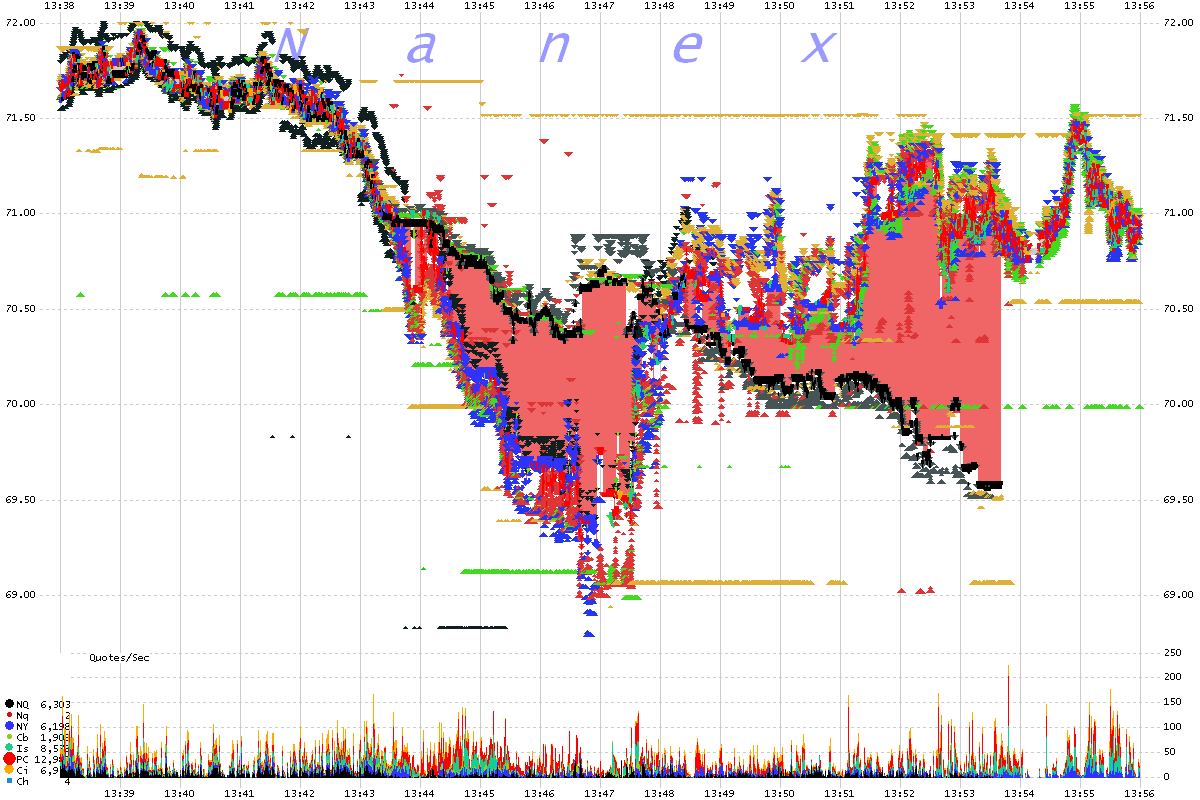 ---
QCOM ~ Qualcomm
---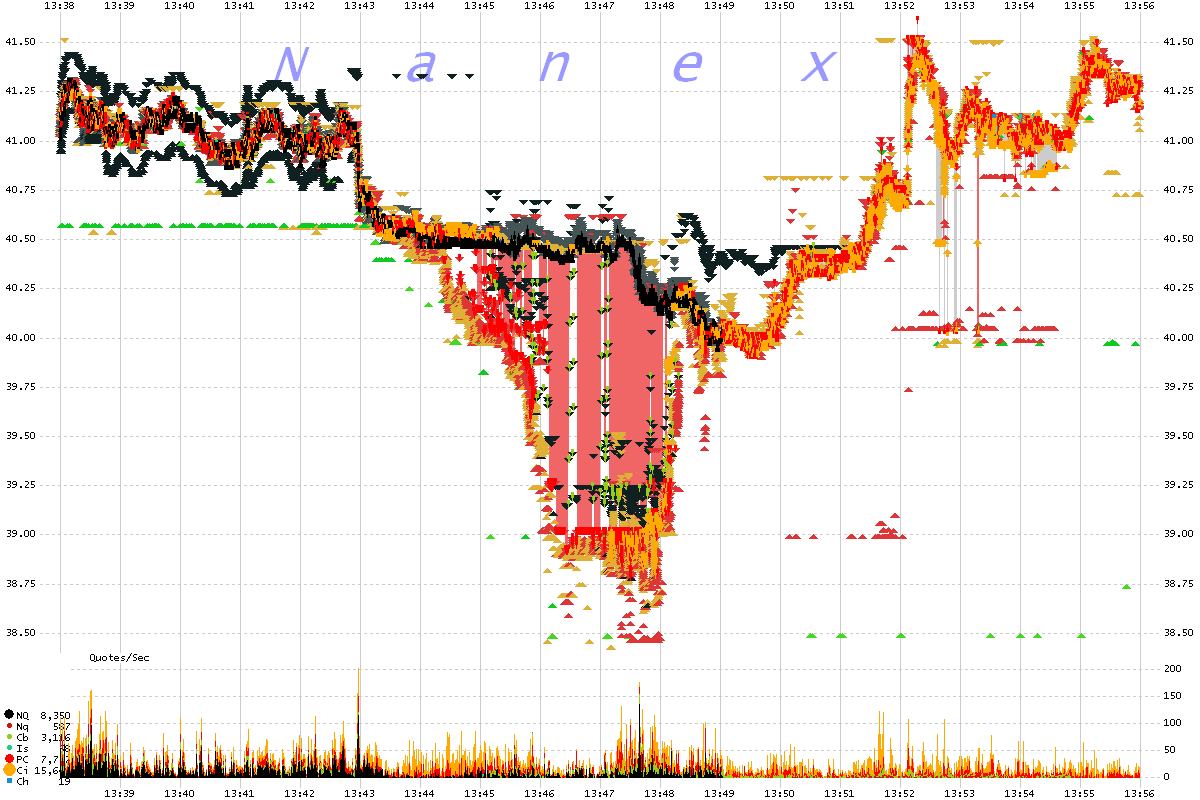 ---
RIO ~ Rio Tinto Plc
---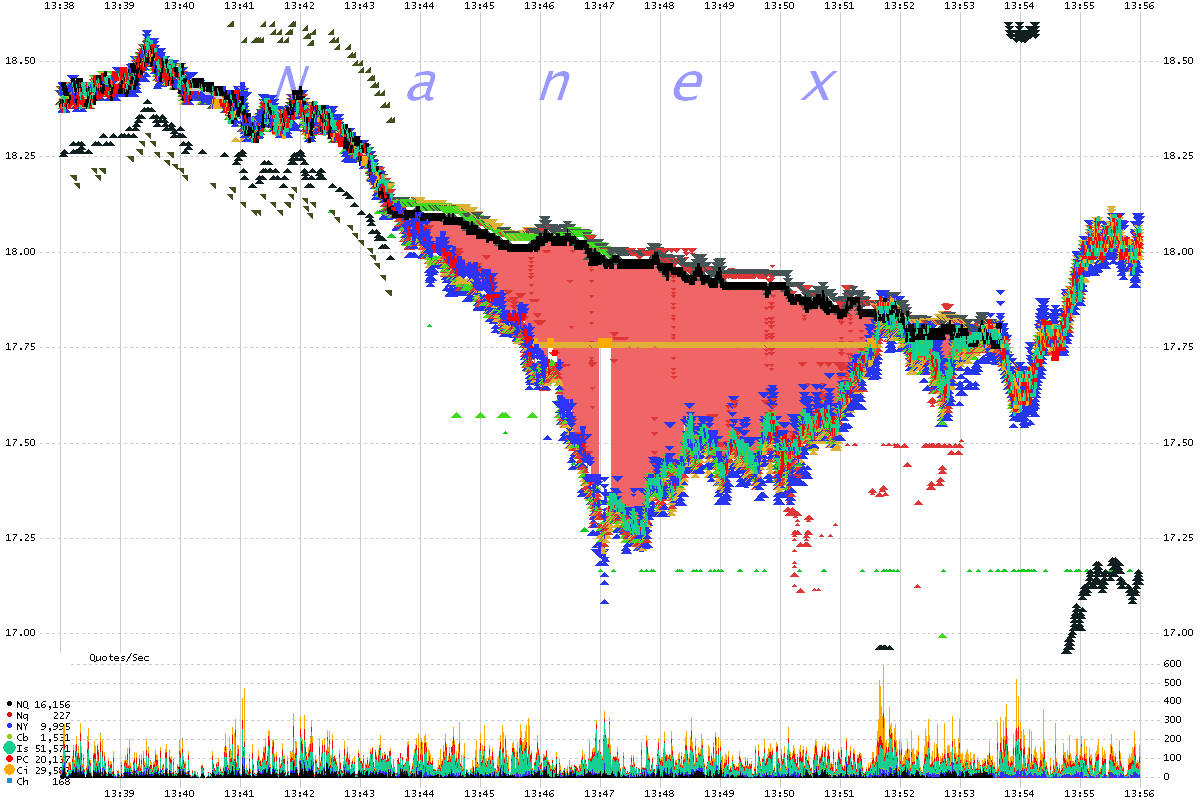 ---
USO ~ United States Oil Fund
---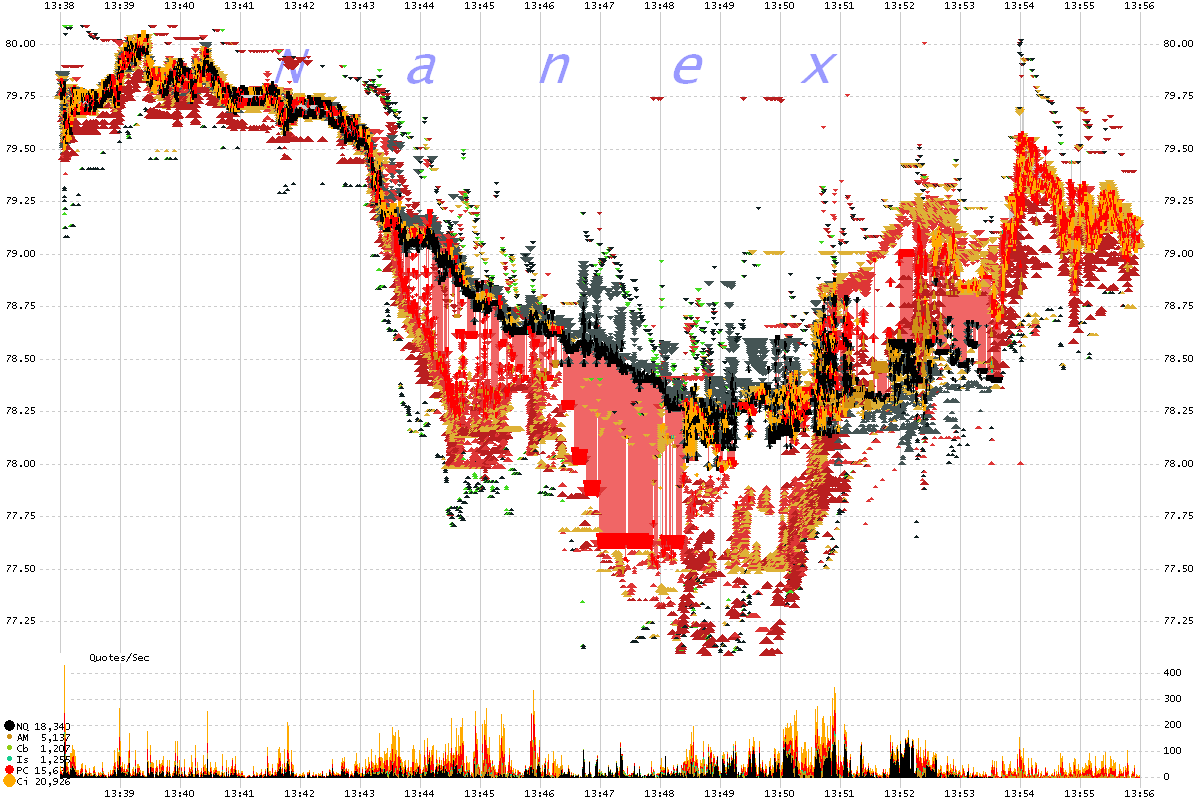 ---
WMT ~ Walmart
---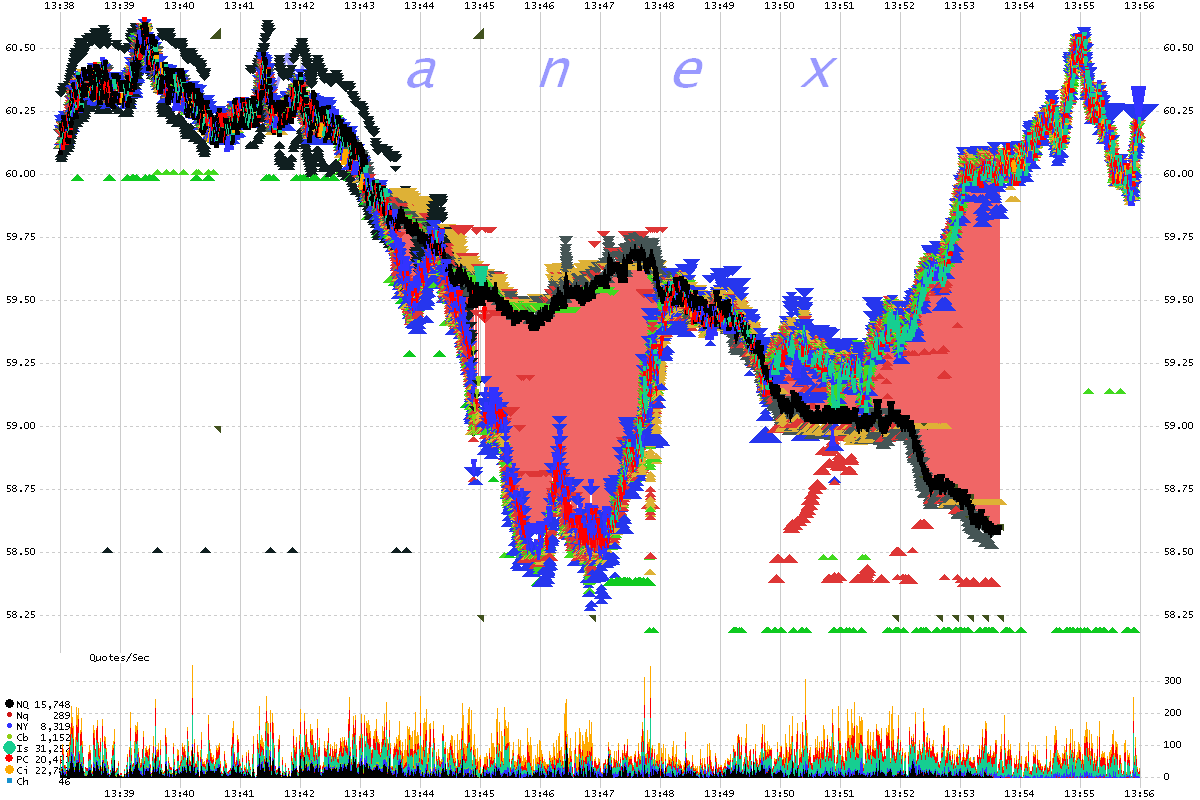 ---
GS ~ Goldman Sachs
---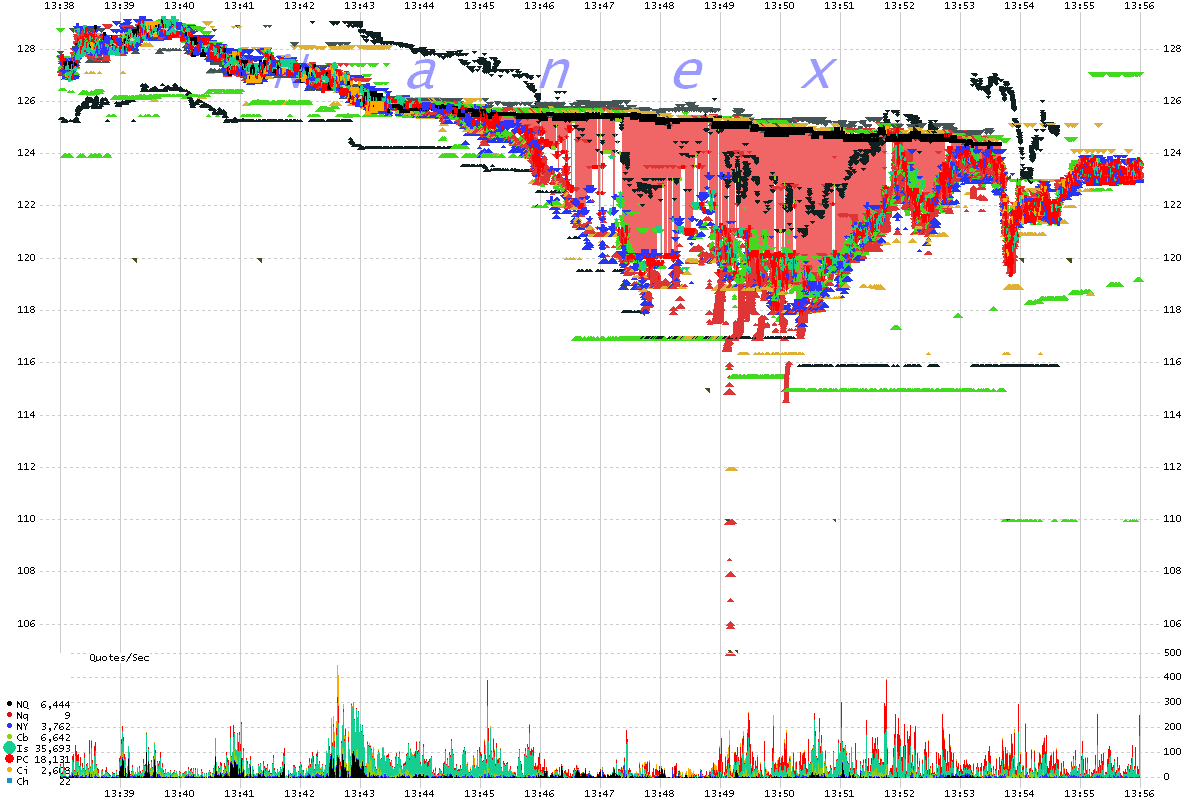 ---
We welcome comments or questions at: pr@nanex.net

Publication Date: 02/10/2012
http://www.nanex.net

---
This report and all material shown on this website is published by Nanex, LLC and may not be reproduced, disseminated, or distributed, in part or in whole, by any means, outside of the recipient's organization without express written authorization from Nanex. It is a violation of federal copyright law to reproduce all or part of this publication or its contents by any means. This material does not constitute a solicitation for the purchase or sale of any securities or investments. The opinions expressed herein are based on publicly available information and are considered reliable. However, Nanex makes NO WARRANTIES OR REPRESENTATIONS OF ANY SORT with respect to this report. Any person using this material does so solely at their own risk and Nanex and/or its employees shall be under no liability whatsoever in any respect thereof.