Nanex Research
---
Nanex ~ 10-Jul-2013 ~ HFT Causing High Volatility in AAPL
On July 10, 2013 starting at 10:39:20 in the stock of Apple Computer Corp (symbol AAPL, market cap: $394 Billion) a High Frequency Trader (HFT) turned on their spoofing algorithm, and started stealing from anyone buying or selling Apple's stock. The chart below shows the National Best Bid/Offer (NBBO) changing from "normal" to bizarre. The red shading is where it crosses (bid > ask) and yellow shows where it locks (bid = ask).


---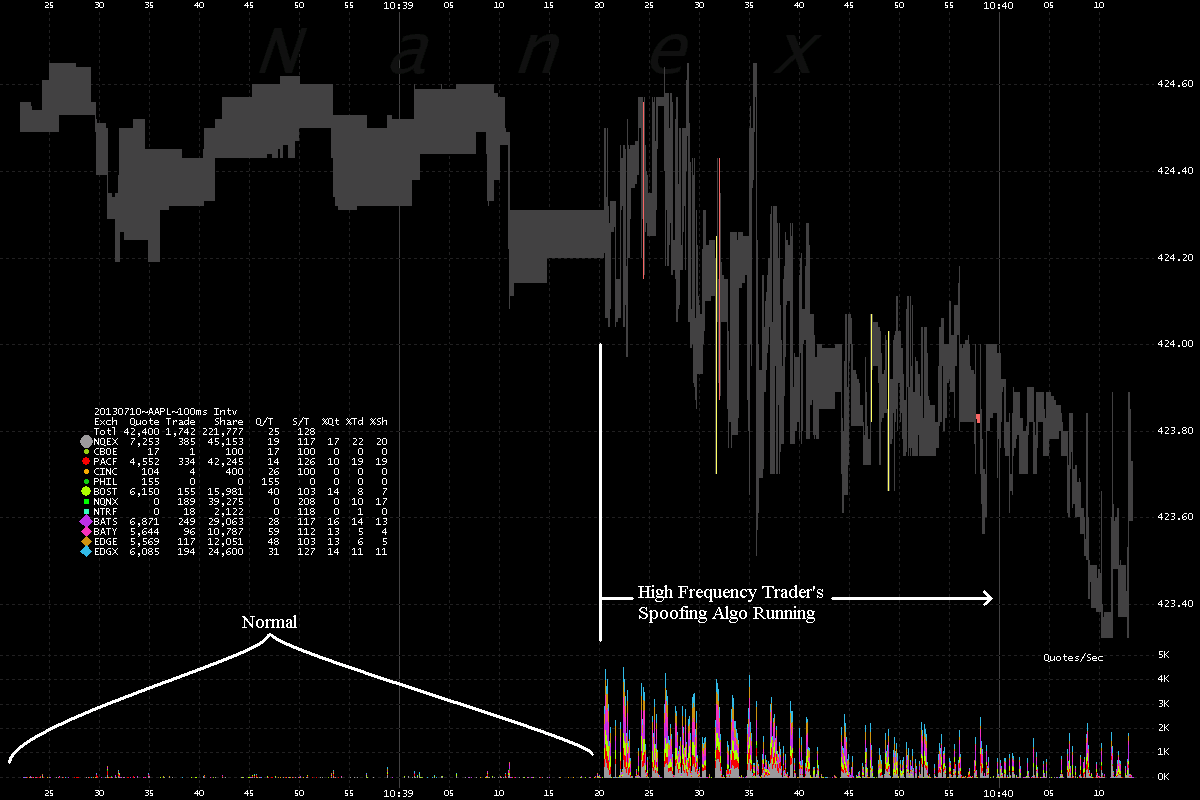 ---
Update: July 12, 2013
Were options involved? When scanning for unusual activity during the 10:39 time period, only one thing stood out among the 1.1 million symbols we monitor: unusually high quoting and trading activity in Apple options. In fact, there was more activity in Apple options during the time the HFT algo ran (10:39 - 10:40) than during the FOMC news release at 14:00. That is shocking.

Instances of high option trade or NBBO quote counts in Apple Options.
Left chart shows entire day, right chart zooms in on the 10:39 period of time. It's important to note that there was a FOMC news release at 14:00 - which shows up on the left chart. There was far more activity when this HFT algo ran than during the FOMC release - one of the most volatile times in the market.

---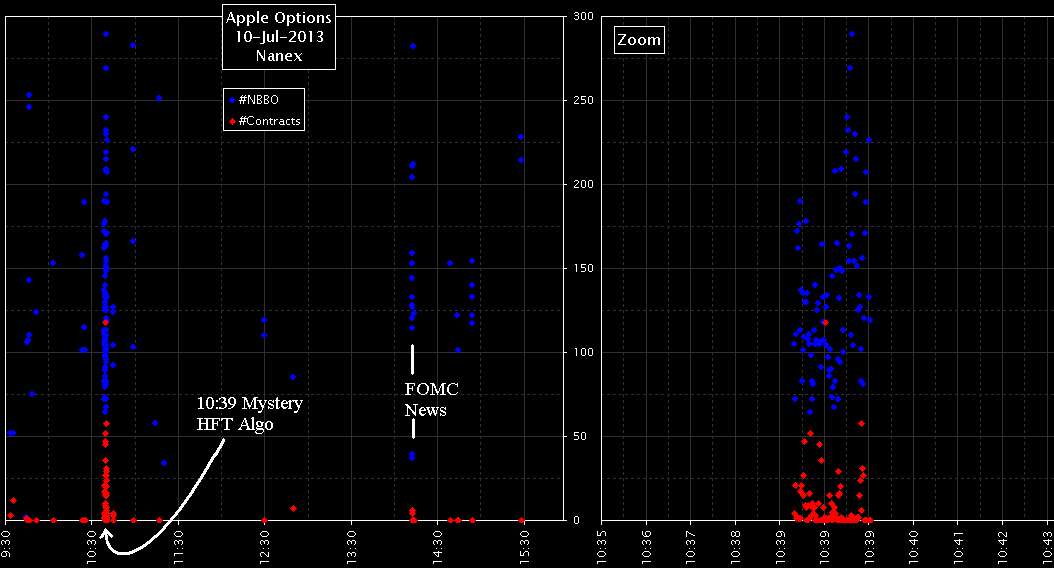 ---

Detailed charts of the blatant manipulation of Apple Computer Corp's stock. This is just wrong. Apple stock usually averages about 4 quotes per trade, but balloons to an average of 34 when this nefarious (and illegal) HFT algorithm runs.



---

Animation of 20 seconds of trading during this event.

---
---
Tick chart showing oscillations that should be very familiar to anyone who regularly follows our research.
---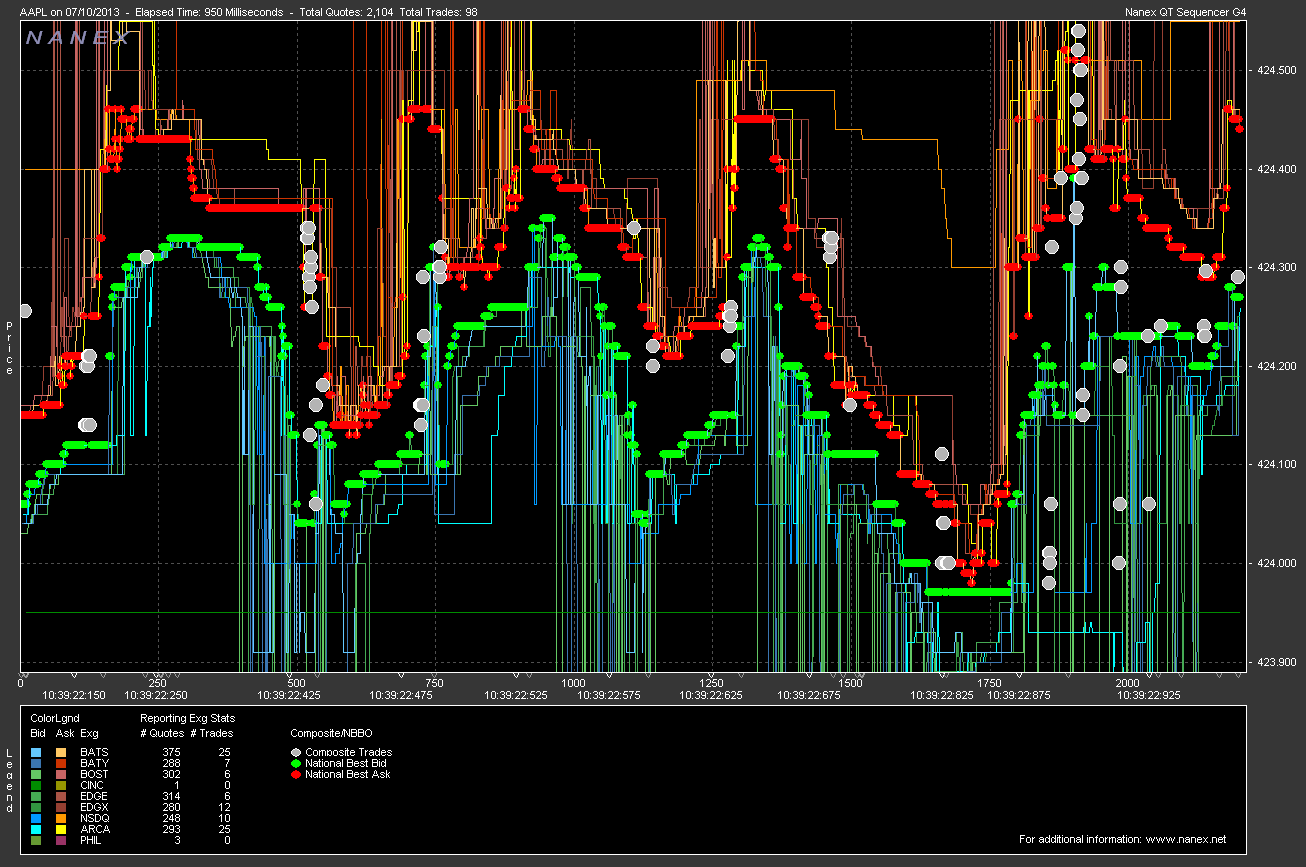 ---
Nanex Research
Inquiries:
pr@nanex.net